Here's the list of crewmembers on board the Exeralune, mainly just for fun and not for actual major playable characters. You may add to the crewmember list with your own NPC ideas. NPCs mostly work in the background and fill positions not taken by playable characters. If a playable characters wants a position controlled by a NPC then the NPC may die or otherwise leave that position to make room if that position only allows one person in it.
If their name is listed with a (P) beside it then that means it's a protected character whom you cannot kill, do major plot revelations about, and have act out of character without permission from who created the character. In my case you can still control them as NPCs in your post during normal things they would be doing. Without the (P) means that you can have this character suffer any fate you want and build onto their character as long as it doesn't contradict other personality traits for a good reason. If someone really loves a certain crewmember not yet marked with a (P) or other marking then they can make it (P) with them having the authority over the character. However, don't do this too often. Names marked with an (S) are special, which have all the benefits of a (P) but also cannot even be controlled at all.
If you use any of the characters I originally post, keep in mind that I can have them canon-0 later on, using them as my own which include certain traits that you might bring about in them in your writing, unless you're the one to do most of the information about them, then we'll say he, she, or it becomes your character, only you have to change the name because I'll keep the name, along with their original traits for my own. Their canon-0 information might be different then what they are like or what happens to them in canon-1.
Motive means their reason for joining the Exeralune. Service is how many "episodes" they've been around for.
This list will be updated with multiple crewmembers a day until it becomes more filled out. They are listed in alphabetical order, although protected and special characters are listed first.
Character Sheet
Edit
Service -
Race -
Gender -
Age -
Position -
Motive -
Appearance -
Traits -
Officers
Edit
Security
Edit
Asuka Tomoe (P)
Edit
Service - 1 to Current
Race - Japanese Earthling
Gender - Female
Age - 22
Squad - Sareph
Motive - To improve her swordsmanship against many unusual opponents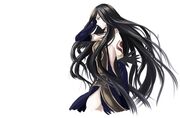 Appearance - She's a beautiful Japanese woman with long, silky black hair that reaches down to her mid back and large breasts (42H)
Traits - She's incredibly skilled with her katana, which is made out of a rare material far sturdier than steel. Her senses can be enhanced magically, including being able to see certain things that are normally invisible to the naked eye. Her reflexes can also be enhanced to inhuman levels as well as her strength and, more dramatically, her speed. With her high level of focus she can keep her enhancer magic active for extended lengths of time. Because of all of this she's the most deadly close range fighter among the redshirts, including giving some other characters a run for their money.
Eru Ixilion (P)
Edit
Service - 1 to Current
Race -Rifer
Gender - Female
Age - 21
Squad - Sareph
Motive - curious to other cultures and wanting some action, it pays good enough to give her daughter a great future.
Appearance - She has a slight copperish complexion, edging mostly too the human side colors, her hair is golden and pretty thin for their race at a unusual low 1.5 milimeters and reached down to her below her shoulderblades and split it in two pnytails from the sides of her head, her body is covered with broken and interupted lines marking her as a Brown genetic magiwave user, elven ears and no eye brows, all of her teeth are pointed slightly, a real small tong, slim yet athletic and no body hair, 4 fingers, a circle scar mark in the back of her neck, thin wrists and enkels yet while most have a more prominent spinecord she has a normal one (to human standarts), she has a D cup (as she has a young daughter back home, and a natural C cup)
Traits - She has a tomboyish personality but can be rather quickly intimidated when she is with people she trusts (meaning she is a tomboy when in enemy and unknown people presence and calmer as more easy to follow others commands when only with the crew) meaning she could at times feel intimidated by one of her coworkers who wants her to come drinking with him (meaning:  Greet Bruthalnolnvit ) even though A Rifer cant handle alcohol...
In a fight she is confident, teasing, insulting and plain out ruthless with some possible sadistic traits, going for overkills and taunting, when inside a structure she is however much more weaker making this a risk, et she seems to compensate this by using 2 small magiwave machine type guns to fire as a maniak to the enemy line (forcing them to fall back so that her team mates can go in for the kill) (the guns have been custom made so they use magic bullets, giving her near endless ammo), when outside where there is earth she uses her Genetic magic rather then the guns, going past the normal Rock armor cloak as she becomes more of a living juggernaught, a large golem (as far as the area allows) making it really hard to touch her directly and using her earth type magics to cause chaos on the field, in a team battle she even uses her genetic magic to reshift the field in her teams advantage and confuse the enemy as break their stratergy, at If she however gets enraged her armor would lessen to a still thick armor but more agile and holding the guns in her hands, making her a shooting golum rather then a magic golum, however she cant see well and in her rage forgets to check for her allies..
Greet Bruthalnolnvit (P)
Edit
Service - 1 to Current
Race - Blumn
Gender - Male
Age- 41
Squad - Sareph
Motive - To drink all kind of liquor around the galaxy with all the drinking buddies he makes (this is a secret motive, he tries to act tougher than this)
Appearance - Tough, bumpy, navy color skin. Naturally armored arms and shins. Six fingers and toes. Heavyset although a lot of it is muscle. Four eyes.
Traits - Short fused. Tough but kind to those he likes. Good brawler. He can hold his liquor and sometimes pressures others to drink with him if he likes them. He uses a shotgun if need be but he prefers using his fists once he gets in close.
Meidei Vleece (P)
Edit
Service - 1 to Current
Race - Minindo
Gender - Female
Age - 7 (like a 15-year-old human but legally an adult)
Squad - Sareph
Appearance - She's only 4 feet 7 inches tall and has a greenish brown exoskeleton body that looks a tad chubby, especially with the carapace on her back. Her basic body structure is humanoid, just with a bug-like shell instead of skin. She has two antenna, each about the length of her head that's more rounded than humans. Her circular eyes are solid brown but rich and deep looking. She has no nose and only two mandibles that open and close like a normal human jaw but doesn't use teeth. She has three armored fingers/three armored toes on each hand/foot. She wears a conservative outfit despite no visible private parts to cover. A flowing white turtleneck coat, covering the lower half of her face, is the most noticeable piece of the ensemble.
Traits - A girl of few words, only talking when necessary or to make a snide comment in a high pitched monotone voice. It's almost like the opposite of "if you don't have anything nice to say, don't say anything at all". She's trying to be funny in her own way more than cruel when she makes jabs at people in this manner. Most of the time she just stares at people with her unblinking eyes rather than talking. Despite all appearances she's a talented fighter thanks to high maneuverability and use of dual vibroswords that vibrates rapidly in a cutting motion, although due to her small size they are more like small swords. Her primary weapon when not up close is dual machineguns that fires circular metal bullets. Due to her race's natural ability she can sense wind very well, allowing her to pick up on even tiny motions made through the air that has enough force to cause wind. This makes it seem like she has eyes in the back of her head on occasion, picking up on the exact location of enemies behind her to counter them. She's apparently ambidextrous due to using both hands.
Ara Ardat
Edit
Service - 1
Race - Ardative
Gender - Male
Age - 17
Squad - Sareph
Motive - wanting to find good gene's to evolve further and find mates to breed with in order to increase the race it chance to live further instead of dying out
Appearance - a dark green exoskeleton bug with a round head and a more bowwow (see super mario) mouth with a stinger tong, 2 eyes and 2 antana's, he walks on all 4 and has a smooth back with ridges at the outersides what makes him look like a stool in a way, it was a long thin tail and 2 nail like claws on each leg.
Traits - Ara currently possess only 3 triats, 2 from his parents: his father has given him the ability to walk on 4 legs to increase his speed (however he is only as fast as a normal dog) and his mother had given him a unique ability that after having died, no matter what, his body can recollect and recover, but he never remembers what has happened and never realized he died. Lastly he has absorbed a dog and stupidly took the wagging tail to show that he is happy (though this did help with people to accept him as thei knew when he was being nice).
Other: Ara cant talk (yet) but is sentient (but simple minded in a way), futher he can be killed but keeps returning after a while (the way he died will result in the time he needs to recover)
Kawnda Taan
Edit
Service - 1 to Current
Race -Kirridi
Gender - Female
Age - 19
Squad - Sareph
Appearance - She has wild light grey hair that goes down to her mid back. Her skin is slightly darker than most Kirridi, looking like a well tanned human complexion between a dark golden or brown. She has a yellow right eye with flecks of silver in it and a silver left eye.
Traits - She's about average in overall combat abilities among the redshirts. She carries with her a knife in case things get up close and personal, decent in the Kirridi style of knife fighting that's very important among their military. Her stealth isn't bad at all, allowing her to get some swift and silent kills. In a straight firefight she relies mostly on neutral magic of earth, wind, and gravity. She's not an expert in any of them but okay with all of them. She's not very good with long range weaponry but is fine with the pistol and machinegun.
Manna Harunei
Edit
Service - 1 to Current
Race - Ahsuda
Gender - Female
Age - 26
Squad - Sareph
Appearance - Asian looking, her eyes more pointed than most. She has a little over shoulder length straight green hair, green eyes, and glasses. She is slender, including a slender face.
Traits - Uses a pherza detonating bow, a rare weapon that uses arrows with chambers filled with pherza gas on the tips. When the arrow is released it activates the pherza, which builds up energy until it self destructs upon hitting the target, the purpose being having a pherza attack that can travel longer distances without loosing it's full power. She's good at scouting, her glasses able to zoom in like binoculars.
Service - 1 to Current
Race - Nihn
Gender - Female
Age - 16
Squad - Sareph
Appearance - 5 feet 8 inches tall. Golden colored skin with tan fur covering the back of her forearms and the back of her neck, the rest of her body hair no more than like an unshaved human woman. She has long head hair styled into a ponytail reaching her lower back. Her tail is only made up of a small, coarse ball of hair. She has an f sized bust.
Traits - She can use wind magic pretty effectively, emitting it through her hands, feet, mouth, or nose, depending on the spell in question. She can also heat or cool the wind she emits. She can wrap anything that touches her in wind and send it flying, which can also be used on allies to quickly move them about the field.
Valker (No last name)
Edit
Service - 1 to Current
Race -Airios(Fire style)
Gender - Male
Age - 30
Squad - Sareph
Motive - most know that he joined because of trying to tei the relationship between the Airios and the IGCP, but outside that reason he is also secretly an Airios intelligence officer tasked with keeping his eyes out on the IGCP activities in order to see if they wont pose a danger to the Airios, as long as the IGCP is friendly he is allowed to enjoy his time and act indipendent, if the IGCP however ever show's even the slightest of risk to the Airios, he is to return back and report his findings.
Appearance - As a Fire styled Airios he has red feathers and the head of a Valken, over his crew's clothing he wears a Airios elemental resistence chest armor.
Traits -  As A Fire style Arios he is able to shape wings and long robe like tails with oval shaped feather like flames at the ends, He is a true close range fighter able to encase both legs and arms in flames to fight bare handed but also skilled with a Airios spear, setting the tip on fire ot the entire spear (Airios Spears are elemental resistence so they dont burn even if encased), Able to (like all Airios) turn into a large long necked red bird with flaming wings and tails as with flames spuwing out of its head, able to breath fire and shoot embers out of the wings as that all not instance kills wounds will be healed instantly by the flames. he is trained to use small type fire arms (but likes to stay with his close range style)
He knows the universe main langauge fluently but likes to speak their main langauge more often when talking to himself, but can be real quiet as well
NOTE - He can be killed BUT due to the Airios reborn ability will become an infant (who needs to be returned to the Airios planet) so lets keep him alive as long as possible.
Drake Baku can help with his langauge if someone wants to let him talk in the Airios main langauge)
Fan Riteliot Linlilli (P)
Edit
Service - 1 to Current
Race - Zes
Gender - Female
Age - 18
Squad - Man'cha
Motive - To show everyone how great the Zes are
Appearance - Mostly human but purple skinned, has long slender pointed ears (reaching a tad above her skull), pure icy blue eyes (no irises but she does have black pupils in a diamond shape), and grey hair both on her head and like a horse's tail. She has no other body hair. Her head hair is fancifully styled in curls with four larger curls reaching her chest, two curls in front and two behind. She has a blue diamond tattoo on her forehead, back of the hands, and top of the feet.
Traits - She's a cocky tsunderewho loves acting high and mighty like she can solve every problem. She claims everyone else will be her servant one day and love it. She also claims that the Zes will one day be the most glorious of races (with her help and her as queen) despite the fact that they are rare, not endangered enough to keep her from combat but close to it. This points to a high level of delusion brought about by her pampered upbringing where she didn't get out much in the actual galaxy. She can use ice magic surprisingly effectively, making her not a total pushover as people would assume.
Irako Nagashi (P)
Edit
Service - 1 to Current
Race - Ahsuda
Gender - Female
Age - 24
Squad - Man'cha
Motive - After having lost everything due to a tragedy she refuse to talk about she decided to enlist, wanting to start anew and as far away as possible from her former home.
Appearance - 5 feet, black with a dark shade of red hair in a ponytail that reaches right above her but, yellow eyes and golden skin, she is dressed in a short kimono that allows her to move freely.
Traits -  She is a stealth specialist able to sneak around silently and find ways to move around without being seen as getting into places most dont suspect someone can get into, she is skilled at katar weapons, having both strong metalic ones and energy types with her at all times, she uses these to scale walls, she is not much of using explosive and more usefull as a spy where she listens in, steal documents and computer data and some slight computer type sabotage, she has nothing to lose so she can tajke risks when it resolves around her own actions, often ending in sickbay after this, but this has made her as stealthy as she is now due to trial and error.
Chhardus Vindek Halamaught
Edit
Service - 1 to Current
Race -Inorr
Gender - Male
Age- 33
Squad - Man'cha
Motive - Wants to bash enemy heads in, but really wanted to serve in one of the Inorr clans, not the IGCP. Unfortunately for him they were required to send at least some Inorr into IGCP service to be a member.
Appearance - His throat pouch is larger than average but he has smaller head quills that look like little stubs. He's a bit bulkier than average as well despite only being 5 feet 8 inches tall. He refused to wear the "fancy pansy suits" that standard security wear and instead has more battered looking grey battle armor.
Traits - He's grumpy about having to serve on such a ship as the Exeralune, claiming it's not yet worthy of aid from the Inorr, nor does he think it ever will be. However, he has agreed to let them show him what it's made of before he resigns from service over this issue. He expects the utmost from his team mates or else he'll start complaining about them. He refused to use the puny IG Series weapons that come standard issue and instead uses a bulky and overpowered Mihngnet'Chhavan Shotgun, a gun which has a recoil powerful enough to send smaller/weaker races who try to use it flying backwards. Even he jerks slightly backward if he doesn't properly brace himself. He has no other sidearm, using the space purely for the large shotgun ammo.
Service - 1 to Current
Race -Teloran
Gender - Male
Age - 40 (considered a childish whippersnapper by his people)
Squad - Man'cha
Appearance - He's only around 6 feet 8 inches tall. His rocky body is bulky enough to make him slow but he's still slender enough to get around if need be.
Traits - Very proficient at defense. He mostly uses a shotgun, rocket launcher, or he can batter enemies with his rocky limbs or weapons if they make the mistake of getting too close because he's very strong. He's honestly not very good with weapons but is trying to improve on his skills because he recognizes the benefit of ranged attacks, not able to just run out to fight people at close range like he could when fighting other Teloran. His most beneficial use is a walking armory with many weapons and ammo strapped to his back for his other squadmates to take and reload while hiding behind him. Because of this he never turns his back while in a fight and cannot fight well in open areas where he cannot keep this weak spot covered. If he's in that case then he has to drop the backpack or else the risk is far too great to his own safety.
Gurneh Crelltior Manoroth
Edit
Service - 1 to Current
Race -Gurran
Gender - Male
Age - 22
Squad - Man'cha
Appearance - His head crest is bright red and spreads out like a fan, although is not very tall. He has a slender build.
Traits - He uses a machinegun and sometimes a sword, which he puts to good use by using his enhancer magic on himself. He's honorable and brave, always ready to fight when need be. In fact he might resort to fighting too swiftly.
Liorna Vanrie
Edit
Service - 1 to Current
Race -Faera
Gender - Female
Age - 20li'nel(roughly 24 Earth years)
Squad - Man'cha
Appearance - Light purple skin, orange eyes, high cheek bones, straight white shoulder length hair. Regal looking face.
Traits - Slightly stuck up, looking out mostly for herself. Despite a lot of Faera being social she can't really make friends easily, being distrusting of others, seemingly hurt from a past experience. She mostly use the IG series assault rifle in combat. She's pretty accurate but slow.
Ruddus (P)
Edit
Service - 1 to Current
Race -Tan'ghei
Gender - Male
Age - 27
Squad - Man'cha
Motive - Be a loyal servant
Appearance - He has rough brown fur coating his slightly bulky body, for which he apologizes for if someone tries to pet him and it hurts. He has droopy ears that reach down to his mid chest and a flat snout with two wrinkly flaps of flesh on either side of his mouth extending down almost to shoulder length. His head hair is like a wide mohawk with the hair fanning out left and right. The head hair extends down the backside of his neck. He has six fingers/toes on each hand/foot. He has no tail.
Traits - He uses a shotgun
Sulana Week
Edit
Service - 1 to Current
Race - Ulanee
Gender - Female
Age -18
Squad - Man'cha
Appearance - Redish brown fur covers her most of her body, softer white fur covering the front of her torso, face, hands, feet, and the ending portion of her tail and ears. She has very long pointed ears that could reach the small of her back and a fluffy tail that starts out thick (this portion of the tail called the bulb) but then goes very thin and long, 8 feet in length total. Her hands and feet are a cross between human and animal, on the clearly animal side being sharp, tough nails. Her head hair is fluffy and long, extending to her lower back.
Traits - She has powerful animal senses/instinct, allowing her to more easily detect traps. Combined with her high mobility and she's a very good scout. She's decent with sniper rifles but is the best with pistols.  
Elbert McNeal (P)
Edit
Service - 1 to Current
Race - Human
Gender - Male
Age - 42
Squad - Tel
Motive - To serve the IGCP faithfully in it's time of need
Appearance - He has greying hair that's getting sparse. His wrinkles are most evident around his eyes. He has silver colored irises.
Traits - He's experienced in combat, being a pragmatic and wise person, which earned him a spot as a security team member despite his age, even if he cannot physically keep up in heavy combat situations. His assignment on the Exeralune is his last tour of service before he retires. He keeps a family photo in his wallet that he enjoys looking at and showing others. He does many things that would foreshadow him dying in the near future, but somehow the fates have left him alone.
Mickey McMillan (P)
Edit
Service - 1 to Current
Race - Scottish Earthling
Gender - Male
Age - 25
Squad - Tel
Motive - To protect his sister Mindie, who was adamant on joining
Appearance - Short spikey red hair. Fierce green eyes. Pale skin.
Traits - Known for his great talent at snipers and trick-shots. He dotes on his sister Mindie far too much.
Argon Nargonien
Edit
Service - 1 to Current
Race -LizzayCivilians
Gender - Male
Age - 35
Squad - Tel
Motive - basically he joined for the kicks as being a arms for hire had became dull for him.
Appearance - In general he looks like a iguanna, including with a vin on his head, but he also has the same spikes as a Bearded Dragon (Pogona Vitticeps), he has a really long tail for even his race, equally as long as his body, what could prove a risk for himself but he cant remove it or risk bleeding out.
(included the latin name cause I am not sure if the English name was correctly translated from Dutch (cant believ that a normal real living reptile is called a Dragon in English))
Traits - As any Civiliansses member he is stronger, faster and more agile then most humans, He has mastered ranged combat using snipers, shotguns, assaunt rifles and battle rifles in just a few weeks and I currently training for others, though he is knows how to mix his range combat with his agility and speed to keep moving and making interesting movements to keep the enemy surprised and with it able to keep avoiding their attacks (such as jumping and moving to the point of suddenly being up high or looping while turning midair over an target to shoot them in the back) he is more dangerous fighting in melee, he always has 2 Elxchion weapons with him, a physical energy type double edge sword and an physical energy type claymore.
Iron Ion
Edit
Service - 1 to Current
Race - ExendrianVaire7e gen
Gender - Male
Age - looks 39 but is in reality 300
Squad - Tel
Motive - escaping from the Vaire hierarchy and live life as he want.
Appearance - Short black hair, gray eyes, for some reason when you look at him you think of those hard faced looking gentlemen as shown in movies that play in victorian times, including the beard and moustach.
Traits - He is open about being a Vaire and relys on his Vaire powers, He is a Night rank but was born in the Vaire as a Goul rank and treated pretty badly by those that turned him so he feels empathy for those in pain and cant take it when people start calling him things as worthless and scum, often transforming and lashing out, even though people know he is a Vaire, they are not afraid or have no reason to be as he only eats vegi's (he even tried to pull out his fangs as a sign of refusing to drink blood, but they grew back), he generally plays a scout and support role on missions but can also be seen carring things though the air such as enemy's to drop somewhere, cargo, wounded ally's or those that need a quick lift.
Jeenee Forlanea
Edit
Service - 1 to Current
Race - Faera
Gender - Female
Age - 15 li'nel (18 Earth years)
Squad - Tel
Appearance - She's a medium shade of blue with purple coloring on her left hand, which she claims is her lucky hand that can cast a jinx on misbehavers. Her irises are milky white. He hair his died light purple and is made into a ponytail reaching just below shoulder length.
Traits - Upbeat, playful, and optimistic, always willing to lend a helping hand to those in need. She's well liked and makes friends easily. She's into nerd culture so makes a lot of references people might not understand. Most notable of her abilities is the jinx category of dark magic, but often only powerful enough to work if her target believes it's working, causing her to have to cast it dramatically by waving her lucky hand at them and chanting, which has nothing to do with her magical formation but serves it's purpose well enough against some people. Her jinxes can have a variety of non-magical yet still negative effects, seemingly the opposite of her personality. The jinx can cause people to become unlucky, uncoordinated, unwilling to fight, etc.  
Service - 1 to Current
Race -Andorr
Gender - Male
Age- 31
Squad - Tel
Motive - Rehabilitation from a previous experience
Appearance - Yellow skinned with grey shell. He has a rough looking face with a nose clearly broken in the past and lots of scars over most of his body. His right arm is robotic past the elbow.
Traits - He was originally a part of the Andorran Empire Militia, but that all changed after his patrol was ambushed by an unknown group who severely damaged his ship and boarded it, killing most of the crew and a Korrvain cut off his right arm with an axe while he was in a daze. He was taken captive and tortured for information on the rest of the Andorr scout positions in the area but he kept quiet long enough to be rescued by IGCP special forces. He was honorably discharged from the milita with their version of the purple heart, and while he was recovering from his injuries he wished to rehabilitate himself by once again easing into the life he had before the incident, and although he wasn't able to rejoin the militia yet he was offered a position on the Exeralune to help bring him back up again and prove himself. He is talented with a wide variety of weapons.
Johanna Prostituée
Edit
Service - 1 to Current
Race -EarthlingDutch
Gender - Female
Age - 18
Squad - Tel
Motive - ....
Appearance - Long blond hair (that extends to the back of her knee's on the back and has some locks that end just above her belly button on the front side), Neon Blue eyes, White skinned, thin frame and small yet perky chest and a nice but.
Traits - clumsy yet always nice to people, she seems to have a rare trait where most male's (and lesbiens) that look at her tend to forget what they were doing for a little while as they stare at her, she tends to use this to shoot them, though she is clumsy she is an exilent marksmen with small type fire arms, fast and agile and knowing where to fire for high damage to a body without needing to aim or think, though due to being clumsy she fails at everything else and is often the cause for getting her team noticed, either due to her looks or due to tripping over stuff and so on.
Michral Erodus
Edit
Service - 1 to Current
Race - Exendrian
Gender - Male
Age - 32
Squad - Tel
Motive - ...
Appearance - Black hair, green eyes, big build where he looks fat but has a large amount of muscules under the fat.
Traits -  Michral is slow and strong to a body builder level, he tends to get close and personal using his fists or blund heavy weapons but can be seen using some heavy weapons such as rocketlaunchers and detached turrets.
Service - 1 to Current
Race - Yuun
Gender - Male
Age - 15
Squad - Tel
Appearance - Slender, grey skinned, and hairless. He only has three fingers and three toes on each hand/foot. His oddly shaped head is the biggest distinction from humans, looking sort of like a cross although his eyes are still near the middle rather than the extended portions of his head on the left or right, which is actually to sense positioning due to his race living underground. His eyelids close from a single lid on the outside corner of the eye that close inward. His nose is only two holes. He has no visible ears. He has a wide mouth and tongue with only flat teeth.
Traits - Known for accuracy with pistol.
Reeker Chintak
Edit
Service - 1 to Current
Race - Chaehtinn
Gender - Male
Age - 19
Squad - Tel
Appearance - Dark brown in color with yellow markings all over his body.
Traits - He's the essence of disposability and is not very talented at fighting despite coming from a warrior race. He uses machineguns and is woefully inaccurate with them. Sometimes he tries to dual wield knifes and charge at his target when he runs out of ammo.
Engineers
Edit
Maux Gharthulious (P)
Edit
Service - 1 to Current
Race - Eltveein
Age - 233 (Elderly for his people)
Position - High ranking engine engineer
Motive - "If you want the job done right, you better do it yourself"
Appearance - See race image for him in his younger days. He's a midget, only four feet five inches tall.
Traits - An incredibly talented engineer who's served on many prestigious ships, making people wonder how they got someone like him to agree to work on the Exeralune, a relatively unknown ship. Rumor has it that he and the Captain go way back and Maux owes him a huge favor...or is it the other way around?
Nanao Minn (P)
Edit
Service - 1 to Current
Race - Niiroan
Age - 7 (around 17 in Earth years)
Position - Common Engineer (fixes the more simple and everyday equipment but can provide assistance to any area under supervision of a specialist engineer)
Motive - She doesn't know what she wants to be in life but was always good at tinkering with things. Because of this her parents suggested she go out and see the galaxy as an engineer. She didn't have any comebacks so thought it would be easiest just to give it a shot. She's nervous about dealing with others so tries to just blend into the background as much as possible.
Appearance - She has long black hair almost reaching her hips. She has blue skin, roundish ears, and inhumanly large reddish orange eyes that look like a fly. However, this is her only feature that looks like an insect due to her actually being a mammal. Her nose doesn't protrude much and she has small nostrils. She has small, pointy white teeth like little triangles. Her index fingers are a tad longer than the rest of the fingers. She has slim fingers and toes as well as a slim and small body in general, only 4'9'' feet tall.
Traits - She subconsciously activates a magic that makes her disappear from people's attention. Anyone paying attention to their surroundings can still see her, especially if she does something to make herself stand out, but if you see her in the background and don't put any focus on her then eventually you'll find her vanishing from your attention until it's like she doesn't exist. People also tend to forget her name or what she looks like. People mistake her for being a ghost if she makes a noise or moves something and nobody noticed that it was her in the room the whole time. Sometimes she's fixed entire systems without people noticing that it's been fixed, leaving them confused how it's working so suddenly.
Chik'chik Liitvi'chat
Edit
Service - 1 to Current
Race - Kha'thik'rhhi
Gender - Male
Age - 9
Position - Medium ranking common engineer, trusted to travel around the ducts of the ship to help fix various equipment by getting to places normal people can't do easily.
Appearance - Hard to tell the difference between those of his race. He has his pin identifying himself as an Exeralune crewmember on top of his body segment just behind his head.
Traits - He keeps focused on his tasks at hand very well. He doesn't have enough knowledge of each system to do them all on his own, but knows enough about every system to be able to follow orders to help out as best he can.
Technicians
Edit
Fish Chiettuffniquix (P)
Edit
Service - 1 to Current
Race - Gleetup (Amphibious humanoid lizard)
Age - 33
Position - Engine Technician
Motive -
Appearance - Greenish blue skinned. Slender. Big eyed. Soft scaled.
Traits - Commonly goofs off with crewmember Sticks. Somewhat inadequate with his job but does enough to get by. He was adopted by a human father who gave him an easy sounding first name in English, not knowing English well.
Mindie McMillan (P)
Edit
Service - 1 to Current
Race - Scottish Earthling
Age - 23
Position - Navigation Technician
Motive -
Appearance - Long braided brownish red hair. Soft green eyes. Pale skin. Freckles.
Traits -
Kwon Woo Bon (P)
Edit
Service - 1 to current
Race - Mon Kett
Gender - Male
Age - 22
Position - First helmsman (pilot)
Motive - After a near-death experience cost him his left arm, he decided that life is too fickle to waste and that he wanted to travel the galaxy while continuing to help those in need.
Appearance - White fur, amber eyes, cybernetic left arm
Traits - Kwon is a veteran pilot who worked for the Mon Kett military until he was gravely wounded fighting the Chutorck. When he recovered, he had himself transferred to the IGCP military to see more of the galaxy during his service. He's a skilled pilot, a fair martial artist and an average marksman.
Min'k (P)
Edit
Service - 1 to Current
Race - Quo'vohr (Translated as "the changing one")
Age - ??? (Looks to be around 12, claims to be much older)
Position - ??? (He doesn't even wear a uniform)
Motive - ??? (He doesn't seem to cooperate much, making people wonder what he's doing here)
Appearance - Normally he looks like a human boy with very messy shoulder length greenish brown hair, scarlet eyes underneath droopy eyelids from his lazy expression, and bags under his eyes when he doesn't get enough sleep. His transformed state results in his skin becoming dark green and scaly with multiple spikes of different sizes sprouting from various points on his body. He grows to about twice his normal size and his face changes more to like a giant muzzle with razor sharp teeth running along it's entirety, able to open up incredibly wide to snap down on victims with large amounts of force, able to catch nearly half of an adult male within it's maws. If the transformation continues then red eyeballs and scaly/spiky green tentacles sprout all over his body as well as he looks less and less human, becoming more like a writhing tube of flesh, spikes, eyes, and tentacles.
Traits - He's constantly seen sleeping, claiming he needs to conserve energy for his transformations. If you wake him up it's rumored that he will transform and eat you, which isn't true but he does get very grumpy. The transformation happens under extreme duress and it's hard to fool himself into transforming. He looses control while transformed, only stopping once he runs out of energy (in around 10 minutes) or someone makes him. He falls into a coma after transforming.
Sticks O'Hally (P)
Edit
Service - 1 to Current
Race - Human
Age - 29
Position - Armory Loader
Motive -
Appearance - Dark skinned. Bald.
Traits - Commonly goofs off with crewmember Fish. Somewhat inadequate with his job but does enough to get by.
Obo Machremtohs
Edit
Service - 1 to Current
Race - Greebu
Age - 29
Position - Media Manager
Motive - To acquire unique media from various planets not found on the internet or holds more value as physical media
Appearance - Fat and pink skinned. Four chubby arms. No hair.
Traits - A major geek into all sorts of things such as anime and videogames. Cutesy anime music plays loudly from his room almost all the time he's in there. He has dozens of figurines and other forms of physical media relating to his hobby scattered about.
Deceased
Edit
Reserved
Edit
Matt Swift (P)
Edit
Service -
Race -Human
Gender - Male
Age - 19
Squad -
Appearance - He has spiky blonde hair blue eyes, and a great, slim yet strong physique.
Traits - He's cocky yet skilled, able to use enhancer magic to boost his physical capabilities. He was a competitor in the annual "IGCP All Nationals Combat Arts Tournament" were he did surprisingly well. He popularized pherza gauntlets due to using them in another fighting arena where you destroy as many robot opponents as you can in a time limit or until they knock you out. He can unleash blasts of point blank pherza as he punches them. He was given an English language name from his father's side.
Fawn Neebless
Edit
Service -
Race - Ferun
Gender - Male
Age- 18
Squad -
Motive - To prove himself
Appearance - Being a tribeless Ferun he failed the metamorphosis and is still in the standard appearance. His hair is scruffy looking.
Traits - Acts like a little dog who likes to bark at those much bigger and more powerful than them. He's kind to his allies but he tries to hard to prove himself and show off; to show that even a tribeless can do great things. He uses a hard light shield in his left hand and a claw weapon attached to his right wrist.
Rikka Linn
Edit
Service -
Race - Ahsuda
Gender - Female
Age - 17
Squad -
Motive - Following her idol, Matt Swift
Appearance - Asian looking. Fluffy shoulder length black hair and blue eyes. Only a little over 5 feet tall.
Traits - Spunky and aggressive in combat but tries to act cutesy at the same time. She uses pherza gauntlets, allowing her in unleash bursts of pherza upon hitting a target to do massive damage.
Nima Uenno
Edit
Service -
Race -Faera
Gender - Female
Age - 15li'nel(roughly 18 Earth years)
Squad -
Appearance - Light blue skin, purple eyes, youthful face, messy shoulder length white hair died with a tinge of light blue on the ends
Traits - Friendly and super outgoing but she doesn't stand up for herself enough, allowing others to take advantage of her as she tries to be liked and fit in. She appears to have the limitless energy of youth working in full force. She's effective with the machinegun although tends to use a whole lot of ammo.
Tennen Gohiro
Edit
Service -
Race - Ahsuda
Gender - Male
Age - 25
Squad -
Appearance - Asian looking with brownish blonde hair tied into a small, thick ponytail. However, he doesn't look feminine, having a masculine jawline.
Traits - Uses assault rifles within the top 10% of redshirts. Very brave and honorable but perhaps a little too straightforward.
Unun Makee
Edit
Service - 1 to Current
Race -Mon Kett
Gender - Male
Age - 15
Squad - Man'cha
Appearance - Dull orange and white colored fur and red eyes.
Traits - He uses a traditional Bonyal staff that lots of Mon Kett learn how to use for self defense from a young age. It's made of incredibly durable wood. For long range he uses a pistol that holds 12 small metal darts that unleash lethal or nonlethal poison.
Community content is available under
CC-BY-SA
unless otherwise noted.